Waterkloof's flooding crisis gets attention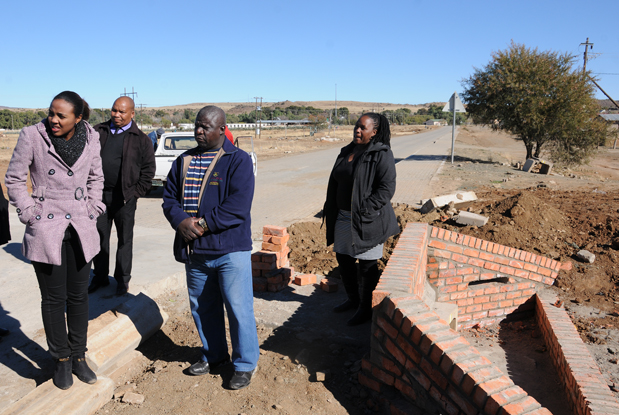 The problem of rain water streaming down mountains and making its way into homesteads in Waterkloof, a small town six kilometres south of the history-rich Philippolis, will soon be a thing of the past.
The Kopanong Local Municipality which runs the area in the southern Free State has set aside a budget allocation of R13.8 million to build a bridge, pave the streets and create caveats in the ancient settlement.
Waterkloof has had this problem for years as it is a foothill village, with rainwater cascading down from the mountains flooding yards and creating a challenge for motorists and pedestrians.
A stretch of two kilometres of the town's main road has already been paved, while construction of the new bridge is now at an advanced stage.
"The road was impossible to navigate each time it had rained and it all has to do with the geographical location of this township, which lies surrounded by mountains," Kopanong executive mayor Xolile Matwa said last week during a tour of the project, which commenced in January last year and was scheduled to be done by this month-end.
"We hope that this will greatly reduce the inconvenience caused to residents by stormy weathers, as we have had to deal with a number of complaints from residents in the past," he added.
Judith Stuurman, the councillor for the area, said the project was a welcome relief for the residents.
"Our problems with water from the nearby mountains still persist," she said.
"However, we believe that with the caveats, the bridge and the paving completed, our lives will be much better than before."
Local resident Mamiki Mphuti said she was happy that the matter was finally getting attention from the authorities.
"We have been waiting with patience for the project to be completed, and it seems it is getting there," she said.
"Finally we can lead normal lives like people in other towns, regardless of our geographical location."