Jagersfontein to get clean tap water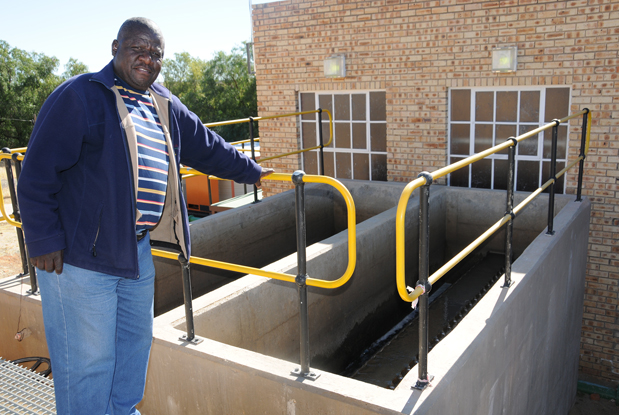 Residents of Jagersfontein, 110km south-west of Bloemfontein, can expect to have a steady supply of clean drinking water piped into their homes by December.
Kopanong Local Municipality executive mayor Xolile Matwa is confident this deadline will be met, with the installation of the town's new water treatment plant already at an advanced stage.
For years Jagersfontein residents have been concerned about serious health risks as they had to rely on water drawn from boreholes and an abandoned open-pit mine adjacent to the town.
Matwa said construction of the water treatment plant – financed to the tune of R10-million through the Department of Water Affairs' Regional Bulk Infrastructure Grant – was already "98 percent complete".
The project, he added, should be wrapped up by December.
Apart from connecting residents to clean tap water, the project would also see the municipality eradicating the remaining bucket toilets in the area, the mayor said.
"It was important to have this water treatment plant in our area because we never had one before," Matwa said.
"It will also help in our plans to have residents flush down their waste instead of continuing with the system where they would have to wait for municipal workers to come collect waste on specific days."
Klein Mqobe, a site manager for the project, said they were on course to have the water treatment plant up and running by the December 2014 deadline.
"Should there be no technical delays that come up we are really set to meet our deadlines for the completion of the project," he said.
Kopanong municipal projects management unit head Nkululeko Kelepu said concerns over the safety of mine water and boreholes had necessitated the implementation of the waste water treatment plant in the area.
"It had been a concern for years now and the answer was just to have this plant to treat the water to acceptable levels for consumption," he said.
Kelepu said also built on site is the administration block where controls and operator rooms for the plant will be located.
Umbutho Construction is the main contractor for the project.
Local resident Mpho Mofokeng said it was about time the area's water infrastructure was brought up to the same levels as with other urban areas in the country.
"It was bad before, but now there is hope that when this project is finished we will have no issues over water anymore, whether for drinking or flushing down waste," he said.